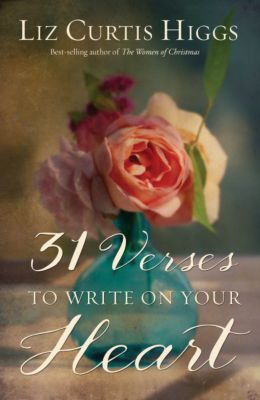 Going through the day to day and wondering if you are doing alright can be challenging. After all, we are capable of messing up and feeling bad later. You know the beat ourselves up over some mistake we have made? Well, in Mrs. Higg's newest book, 31 Verses to Write on Your Heart, there is hope. In spite of what we think of ourselves, there is someone who likes as we are. No joke.
For instance, in Chapter 18, which is titled Lovely Thoughts, is verse from Philippians 4:8 that essentially says whatever is good to think about ponder instead of the bad. Now that is hard to do my friend. We get so caught up in the negative that we forget there is good out in the world and in each other.
Check out the verse and see for yourself: "Finally, brothers and sisters, whatever is true, whatever is noble, whatever is right, whatever is pure, whatever is lovely, whatever is admirable, if anything is excellent or praiseworthy-think about such things." (page 91) There is some wisdom in that verse. Dwelling on the negative will only bring you down, make you feel bad and not so confident. So why bother? Because it is our nature to do so. There is something so theraputic about letting go of toxic thoughts, Can I get an amen??
There is one verse that really sums up how we feel about ourselves. I give you part of Isaiah 43:1- Don not fear, for I have redeemed you; I have summoned you by name and you are mine." (page 142) No need to be scared of God if we screw up. Heck He knows we will, are not perfect! But yet we can take comfort knowing that our sins have been taken away at the bloody cross so that we can be confident that our Lord and Savior loves us always and doesn't turn away from us. That rocks!
I received a free copy from Blogging for Books in exchange for an honest review.
For more information:
http://waterbrookmultnomah.com/books/535351/31-verses-to-write-on-your-heart-by-liz-curtis-higgs/
Author Bio:
http://waterbrookmultnomah.com/authors/12930/liz-curtis-higgs/